Bamburgh Place - 615 2 Avenue NW
PE2021-02036
5-Unit Multi-Family M-CGd72 in the community of Sunnyside
Project Details: 5-units( 1,463 to 1,894 SF each)
M-CG requirements:
Parking ratio 1:1 + Visitor stall (policy compliant)
Bicycle parking (not required)

Min. Set-backs (met) 

Front: 3M, Sides: 1.2M, Rear: 1.2M
Max height 12M (compliant)
Side chamfers (compliant)
Horizontal cross section above 10.5M = 40%, as designed: 39.28% (compliant)
Flood fringe main floor height 1.047M (compliant)
Mechanical above flood fringe (compliant)
Street-Oriented Development (all units have sight-line and sidewalk access)
Virtual Open House
Thursday, October 7 @ 7 pm
Streetscape View
Please note, renderings and models are in draft and maybe be subject to small changes.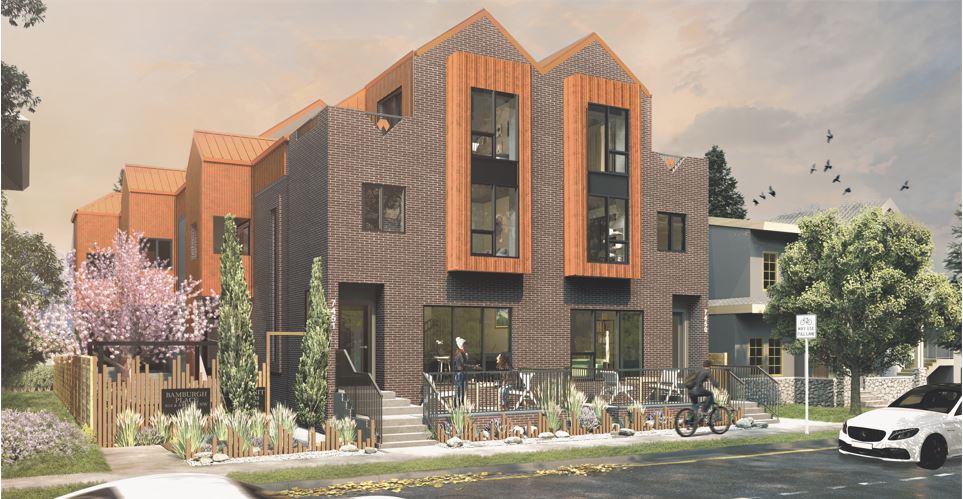 Massing Models
Perspective 1 – View from NE (2 Ave NW)  Perspective 2 – View from NW (2 Ave NW)
Perspective 3 – View from SW (laneway)   Perspective 4 – View from SE (laneway)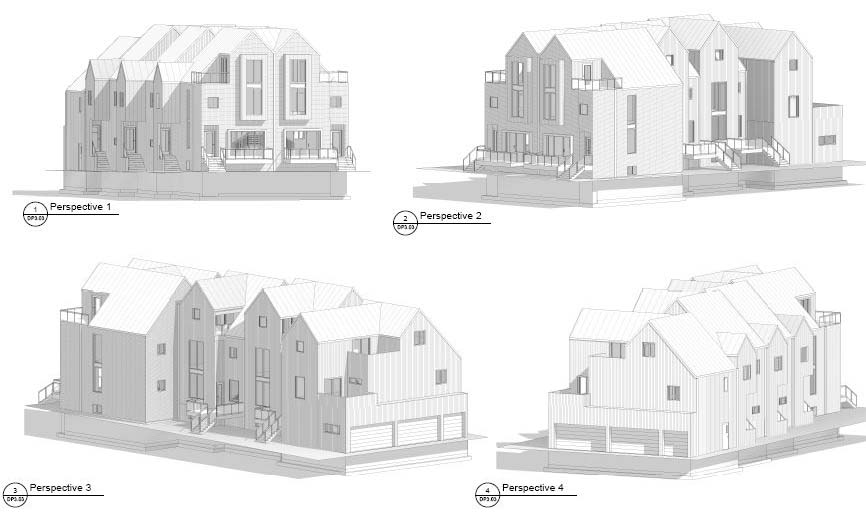 You can view a draft rendering of this project on Youtube here
(please note this rendering does not include all updates to final plans per City and CA feedback).
| | | |
| --- | --- | --- |
| Date | Stakeholder | Engagement |
| Jun 9 | Hillhurst/Sunnyside CA Planning Committee (HSPC) | Conducted a 'blank page' issue documentation session with HSPC, western adjacent neighbour in attendance |
| Jul 5 | HSPC | Provided two options of massing models to the planning committee for comment |
| Jul 20 | HSPC | Followed upon massing model, HSPC indicated a response wasn't possible |
| Aug 5 | HSPC | Plans emailed to HSPC in lieu of a presentation to the committee (August HSPC meeting not held) |
| Aug 6 | Western neighbour | Printed plans hand delivered to neighbour with contact information provided |
| Aug 6 | HSPC | Email with questions from HSPC received and answered, feedback noted and informed changes to the plans |
| Aug 15 | Western neighbour | Emailed to indicate that the plans for any 5-unit building would not be acceptable |
| Sep 8 | HSPC | Attended and presented amended plans to HSCP highlighting changes made based on the committee's feedback and comments |
| Sep 14 | HSPC | Email provided from HSCP with additional comments from committee, feedback noted and informed further changes to plans |
| Sep 15 | Western and Eastern neighbour | Email received regarding concerns with impact of demolition, additional information provided in response |
| Sept 16 | Eastern neighbour | Email sent to establish contact with neighbouring Condo board |
| Sept 28 | HSPC, west and east neighbours | PDF of near-finalized plans provided to stakeholders |
| Sept 29 | Surrounding area | Flyer hand delivered and posted to apartments in 1 block radius inviting attendance at Virtual Open House |
| Oct 7 | Virtual Open House | Conducted via webinar, transcript provided in outreach report |
| Oct 14 | Outreach Report | Provided to neighbours and CA |
| Nov 10 | City of Calgary | DTR1 Comments received |
| Dec 12 | Applicant | DTR1 reply and revisions |
| Jan 6 | HSPC | Updated plans presented to HSPC at monthly meeting |
| Jan 7 | City of Calgary | DTR2 comments received |
| Jan 21 | Applicant | DTR2 reply and revisions submitted |
What We Heard
Major themes during engagement included shadowing, massing and privacy with a specific consideration to the back yard of the West parcel and a desire for inviting community-facing streetscape interfaces.
| | |
| --- | --- |
| What We Heard | What We Did |
| Three previous applications were approved, one was appealed at SDAB | Reviewed previous applications, HSPC feedback letters and SDAB documents to understand concerns, primarily balconies, overlooking and significant relaxations. Noted fourth floor (rooftop) patios, step-backs, shadowing, tandem parking, chamfer penetrations and other concerns. Applicant and architect considered these items carefully and sought to have no relaxations on application if possible. |
| Previous applications noted as low or no engagement | Committed to ongoing engagement and inclusion of HSPC in the design review and considerations. |
| Concerns about contamination and abatement | Full testing and abatement for asbestos, vermiculite and mold completed prior to demolition and neighbours informed of each step and outcome |
| Massing, shadowing and privacy sensitivity requested for West parcel | Provided two options to HSPC for massing, didn't receive any feedback on the options, went with a western courtyard and visitor parking stall to push the mass away from the western neighbour, especially at back yard area |
| Preference to street-oriented development | Achieved, all doors including rear unit have sightline and direct access to front avenue |
| Garbage management | Molok use explained to HSPC and drawings included in plans |
| Bike storage | Added to garage and noted on plans (not required for M-CG) |
| Front balconies too high | Lowered from flood fringe height of 1.47m to 0.6m on front of building and 0.9m on side balconies (meeting ARP general guidelines) |
| Landscaping considerations for sight lines and apple tree replacement | Sight lines to be maintained (and the high doorway location will assist with this, explained to HSPC), apple tree maintenance and size unfortunately cannot be achieved. Apple harvest was offered to Sunnyside Cider. |
| Wayfinding signage for rear units | Noted, explored and to be included |
| Additional laneway windows requested | Maximum glazing restricts total window size and coverage, explained to HSPC |
| Family friendly units encouraged | All units are 3-bedroom units |
| Maximized coverage on previous applications with significant hardscaping | Maximum coverage is not created and both a landscape architect and civil engineer have been contracted and involved with developing the yard and water management to create a balanced and inviting semi-private area |
| Balcony locations and heights | Initial designs had west-facing balconies on third floor, they were amended to face south only to reduce overlooking. Original balcony heights on front and side were at flood fringe height of 1.47m, lowered to 0.6m on the front and 0.9m on the side. |
Your Feedback
We remain open to feedback throughout the DP process and will provide your concerns and comments to the file manager, or you may contact them directly.
The Applicant
Jennifer Dobbin
Dobbin Consulting Inc.
( Contracted Development Manager
for this project owner:
Angus Mason Development Ltd. )
City of Calgary
File reference:
DP2021-7313
Coleen Auld, Planner
(403) 268-1522