28 Castlebrook Drive NE
Land Use Redesignation application
to allow for a Child Care Services use in the community of Castleridge
Redesignation: LOC2022-0026

The Application
This land use redesignation seeks to rezone the property at 28 Castlebrook Dr NE to a Direct Control (DC) Guideline to add a Child Care Use to the existing R-C1 land designation with the intention of creating a daycare on the parcel (a full development permit will be required after redesignation). 
Redesignation
The Direct Control (DC) guideline will seek to add Child Care Service Use to the zoning for the parcel and will meet the 3 on-site pick-up and drop-off parking stall requirement.
Daycare Attendance
The Alberta Childcare Licensing (ACL) Handbook lists the Provincial requirements for interior and exterior area allocations for children attending a daycare.
Interior space 3.0 square meters per child
Exterior space 4.5 square meters
per child for 50% of attendance
As the existing house will be used for the daycare, including a portion of the basement, the ACL allowed attendance number for the site is 40 children. The City of Calgary also reserves the right to restrict the number of students allowed at the daycare through their licensing and development permit application.
Child Care Service Use
In the City of Calgary Land Use Bylaw (LUB), Child Care Services is defined at section 165 and reads in part:
"(a)  means a use:
(i)   where temporary care and supervision is provided to seven or more children:
(A) under the age of 13 years…
(B)   for periods of less than 24 consecutive hours;
(ii) that may provide programming for the social, creative, educational and physical development of children; and
(iii) that includes day cares, pre-schools, kindergarten, out-of-school care, early childhood services and other programs where the primary purpose is the care of children…
(c)    must have screening for any outdoor play areas…
(e)    requires a minimum of 1.0 pick-up and drop-off stalls
per 10 children…"
To read the full definition, visit the online Land Use Bylaw and search for "Child Care Use" at the website: http://lub.calgary.ca
Engagement Timeline
This project is identified as a 1A = Direct Approach level of application for engagement purposes as defined in the Community Outreach Assessment Tool (City of Calgary). Accordingly, 2-3 engagement tactics are required. The applicant will utilize four engagement tactics as follows:
| | |
| --- | --- |
| Tactic | Application |
| Print Materials | Direct mail brochures to 25 residents located around the proposed development |
| Website | Creation of engagement website with feedback form – Engage28Castlebrook.ca |
| Email Feedback | Email for contact provided on print materials and website for feedback. Recieved emails forwarded to file manager for inclusion in Calgary Planning Commission and Public Hearing materials. |
| Advertisements | On-site signage provided contact information for City file manager to collect feedback. |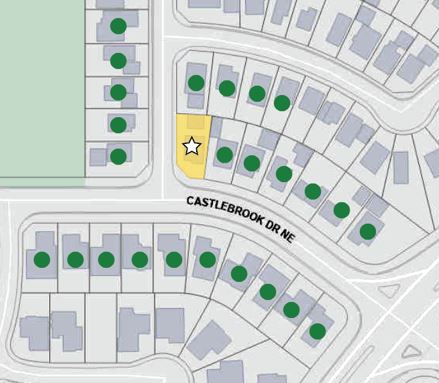 We would like to hear from you! If you have concerns or feedback on this project, please use this form to submit your feedback. We will include all feedback content in our Outreach Report to the City of Calgary for this application.
Your Feedback
We remain open to feedback throughout the application process and will forward your concerns and comments to the file manager.
City of Calgary
Redesignation: LOC2022-0026
Planner
Felix Ochieng, Planner
felix.ochieng@calgary.ca
(825) 945-8759
Please reference the file # above when contacting the file manager.